Over the past few years, the fantasy community has watched an explosion happen with the format of Best Ball leagues. These types of leagues can be played on multiple platforms, but the most popular may be Underdog. So what are Underdog Fantasy Best Ball Leagues?
Underdog Fantasy Best Ball Leagues are a growing format that allows you to draft your team and then let the platform enter your optimal lineup AFTER the games are played. No more wishing you sat this guy or started that other guy. You always use your highest scorers.
Table of Contents/Quick Answers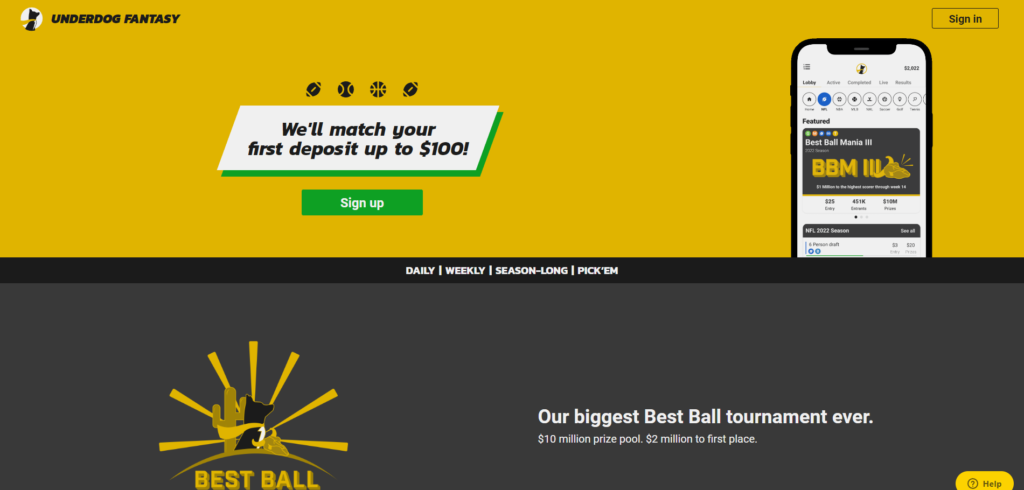 How Does Underdog Fantasy Work?
Let's dig in a little deeper about "What are Underdog Fantasy Best Ball Leagues?" We need to elaborate on what the "Best Ball" format is, to begin with.
Unlike traditional or dynasty fantasy leagues, Best Ball takes the guesswork of picking starting lineups out of the equation for managers. It doesn't matter what sport you are playing, in these leagues you draft your team and that is your team for the duration of the season. Injuries be damned because you won't have the opportunity to pick a player up off of the waiver wire.
You can literally draft and then not look at your team until the end of the season, just like you do in all those free Yahoo! Fantasy leagues you join every year. The difference is, on Underdog, they will automatically insert the highest scorer into each position after they play.
You ALWAYS use your optimal lineup. No more worrying about playing volatile players on their bad weeks and sitting them on their good weeks.
Underdog Fantasy's Platform Features
The reason I personally prefer Underdog Fantasy is the UI (user interface) of the mobile app. Once you mess around on the app for a few minutes, it is pretty easy to navigate. Unfortunately for me, in Indiana, I cannot access the desktop version, but I hope that changes soon!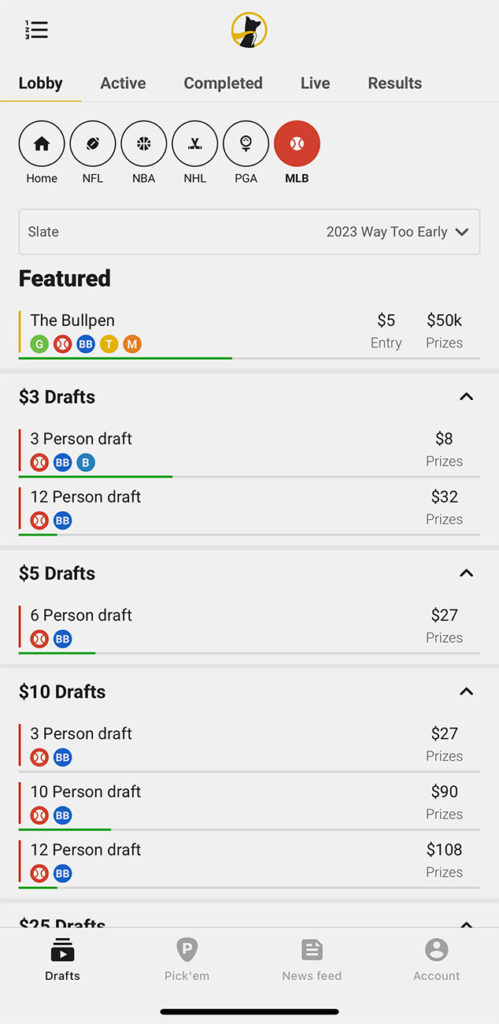 Best Ball League Sports Availability

As you can see, Underdog offers all of the major sports like the; NFL, MLB, NBA, NHL, and PGA.
Best Ball League Sizes
They also offer different sizes of contests. You can play 3, 6, 8, 10, and 12-person leagues.
Best Ball League Buy-Ins
Buy-ins range from $3 up to $1,000+. This means there are contests to fit every individual's needs.
Best Ball Draft Timers
There are also different drafts based on your time commitment. If you don't have time for a live draft, you can enter slow drafts. This is a great feature because it doesn't matter if you have enough time for a 30-second pick clock or need the 8-hour pick clock, there is a draft that you can enter at all times!
Best Ball Tournaments
We are answering the question of "What are Underdog Fantasy Best Ball Leagues", but that is not all they offer in regards to best ball. They also offer tournaments that have super large fields and huge payouts. We will be dropping an in-depth article about best ball tournaments in the near future.
Here are RotoHeat, we focus on NFL, but have plans to soon add MLB & MLB to our platform. We will be dropping NFL Best Ball content all off-season here on our website as well as a new live stream coming to our YouTube channel.
Best Ball Education
We also have our Underdog Best Ball Rankings & ADP right here on the website as well.
As always, you can follow us on Twitter or join our Discord server to get deep into the Best Ball conversations!
Is Underdog Fantasy legit?
Underdog Fantasy is 100% legit and is legal to play in most states.
What States is Underdog Fantasy Available?
Now that we have answered the question of what are underdog fantasy best ball leagues, here are the states that they are available.
| State | Available? |
| --- | --- |
| Alabama | Yes |
| Alaska | Yes |
| Arizona | Yes |
| Arkansas | Yes |
| California | Yes |
| Colorado | Yes |
| Connecticut | No |
| Delaware | No |
| Florida | Yes |
| Georgia | Yes |
| Hawaii | No |
| Idaho | No |
| Illinois | Yes |
| Indiana | Yes |
| Iowa | No |
| Kansas | Yes |
| Kentucky | Yes |
| Louisiana | No |
| Maine | Yes |
| Maryland | Yes |
| Massachusetts | Yes |
| Michigan | No |
| Minnesota | Yes |
| Mississippi | Yes |
| Missouri | Yes |
| Montana | No |
| Nebraska | Yes |
| Nevada | No |
| New Hampshire | Yes |
| New Jersey | Yes |
| New Mexico | Yes |
| New York | Yes |
| North Carolina | Yes |
| North Dakota | Yes |
| Ohio | Yes |
| Oklahoma | Yes |
| Oregon | Yes |
| Pennsylvania | Yes |
| Rhode Island | Yes |
| South Carolina | Yes |
| South Dakota | Yes |
| Tennessee | Yes |
| Texas | Yes |
| Utah | Yes |
| Vermont | Yes |
| Virginia | Yes |
| Washington | No |
| West Virginia | Yes |
| Wisconsin | Yes |
| Wyoming | Yes |