Table of Contents
Top 7 2023 NFL Draft IDP Winners
The 2023 NFL draft is complete and in total, there were 259 players drafted, 129 of which were IDP selections. Cornerbacks led the way again with 36, followed by 30 linebackers, 22 defensive ends, 21 defensive tackles, and 20 safeties.
Coming out of the draft every year we identify players and teams that "won" on draft day. The reality is we will have to wait until September to see these rookies play relevant games and provide us with fantasy results. Regardless, identifying who we feel landed on the right team, and going into why, is just too fun not to debate.
2023 NFL Draft IDP Winners – Calijah Kancey, DE, Tampa Bay Buccaneers
The defensive tackle out of Pittsburgh went to a fantastic spot. The undersized Calijah (6'1″ and 281lbs) would not fit into every defensive scheme. The comparisons to Aaron Donald that seemingly everyone discusses are unfair. But, now playing defensive end in a base 3-4 next to Vita Vea is a great situation. The 6'4″, 347lbs Vea eats up blockers and commanders double teams. Calijah is extremely athletic for a defensive lineman and he will able to use his speed, explosiveness, and quick lateral movements to excel on stunts and twists to get pressure on opposing quarterbacks. I expect him to start right away and have immediate value in defensive tackle required leagues.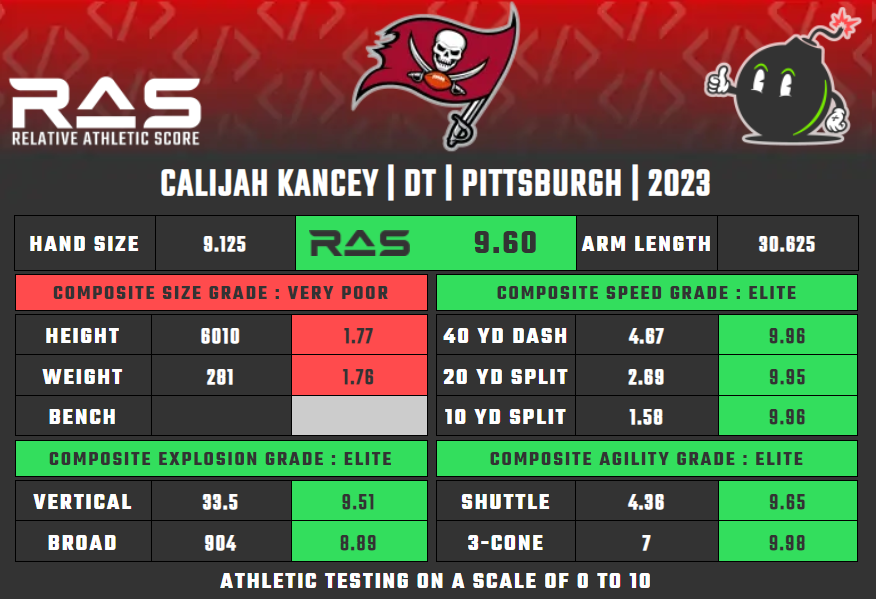 2023 NFL Draft IDP Winners – BJ Ojulari, Edge, Arizona Cardinals
Going higher in the draft than his brother Azeez (pick 50 to the Giants) went two years ago, BJ (pick 41 this year) is going to have a legitimate shot for year one production in Arizona. The Cardinals are going through a rebuild with new head coach Jonathan Gannon, and Myjai Sanders (2022 3rd round pick), Cameron Thomas (2022 3rd round pick), and Dennis Gardeck (undrafted in 2018) are the main competition to BJ.
BJ has elite bend and flexibility for an Edge, and he normally wins with speed. That isn't to say he lacks power when rushing, he can take on blockers and win. He will have to add some functional strength to beat the top-end NFL offensive tackles, especially with being a bit smaller than the ideal Edge rushers (BJ is about 6'2″ and 248lbs). Even with that, I expect BJ to have an immediate impact and should be a starter by the end of this year, which is ahead of where I think most Edge rushers in this class end the season.
2023 NFL Draft IDP Winners – Sydney Brown, S, Philadelphia Eagles
The 66th (3rd round) pick overall this year, Sydney went to a great spot to fight for immediate playing time. Terrell Edmunds signed a one-year, $2 million deal. K'Von Wallace is a 2020 4th-round pick that hasn't show much. Justin Evans signed a one-year, $1.59 million deal. Reed Blankenship showed well last year but was a 2022 undrafted free agent.
Sydney Brown was amazing in coverage as a leader at Illinois last year, as he was the 4th best safety in coverage in college football. He has a great athletic profile despite his smaller size. The downside here is that he had a 15% missed tackle rate (at best) each year in college. He will have to clean that up to make it as a long-term safety in the NFL, but we have seen smaller safeties have success despite their size (ex: Antoine Winfield, Jr. and Sr.). With the skillset, athletic profile, and adeptness in coverage, I like Sydney's odds of getting into the starting lineup this year and having a real impact for fantasy teams.
2023 NFL Draft IDP Winners – Trenton Simpson, LB, Baltimore Ravens
Roquan Smith is entrenched as the middle linebacker for the foreseeable future, but the 5th year option on Patrick Queen was not declined by the Ravens. Enter Trenton Simpson. The 86th (3rd round) pick in the draft out of Clemson is similar to Isaiah Simmons (former Clemson Swiss army knife drafted 8th in 2020 by Arizona), but more of a traditional linebacker than safety.
With an elite athletic profile for a linebacker, Trenton will slide in nicely next to Roquan, without being a liability in coverage, when he takes over for Queen. Trenton needs to fine-tune the more nuanced parts of being a full-time linebacker, but playing alongside Roquan and learning from a veteran defense should help make that a smooth transition. He will never be a stud middle linebacker, but given the current state of IDP linebackers, being on the field for three downs as a WILL that makes his bones in coverage would be just fine for us.
2023 NFL Draft IDP Winners – Ji'Ayir Brown, S, San Francisco 49ers
The 49ers found a gem in the 5th round in 2021 with Talanoa Hufanga, but 2014 1st-rounder Jimmie Ward has moved to the Texans. Tahsuan Gipson is back and likely slated to start next to Hufanga, but Gipson is going to be 33 this year and just has a one-year, $2.90 million deal.
Ideally, Ji'Ayir will have this year to get acclimated to the NFL, as he will need to improve his coverage recognition and hone his instincts. He can play both safety spots along with nickel cornerback, has a non-stop motor and an eye for the ball (he had 10 interceptions in two years as a starter at Penn State). This is a great spot long term and may end up being one where he sees real playing time in year one.
2023 NFL Draft IDP Winners – DeMarvion Overshown, LB, Dallas Cowboys
The third linebacker spot for Dallas is wide open right now, with Leighton Vander Esch slated to start in the middle, and Micah Parsons occupying the other. The unfortunate part of this is that Dallas does not use three linebackers all that often. If we are looking at long-term value though, DeMarvion is in a great spot.
Signed late in the summer a one-year deal last year, Leighton returned to Dallas on a two-year, $8 million deal in this offseason. They can get out of it pretty cheaply though if they want after this year. The 90th pick overall (3rd round) this year, DeMarvion is an athletic former safety that is still growing into his role as a linebacker. He improved each year in college and has the speed, length, and explosiveness to make it as a three-down linebacker in the heart of the Dallas defense.
2023 NFL Draft IDP Winners – Jordan Battle, S, Cincinnati Bengals
Picked at 95 near the end of the 3rd round out of Alabama, Jordan does everything well but does not excel at any one thing. This is not a knock though, and it may help him get on the field immediately for the Bengals. Cincinnati lost both their starting safetys (Vonn Bell and Jessie Bates III) to free agency this spring. They signed Nick Scott from the Rams in free agency and drafted Dax Hill at the end of the first round in 2022, but there is still a spot for Battle here. Dax played 82 of his 150 defensive snaps in the slot corner last year and also played there in college at Michigan.
The Bengals are going to need to have a productive defensive secondary to advance back to the Super Bowl and part of that will be having their best players on the field at the same time. With the flexibility Jordan brings to the defense I expect him to get a shot to get starter's snaps right off the bat, which will give us a chance for immediate IDP value.
Thank you for reading the Top 7 2023 NFL Draft IDP Winners
You can catch all our video content on YouTube. Be sure to subscribe and click the notification bell to ensure that you don't miss any of our other great content! You can also check out our free Offense, IDP and Devy rankings of all kinds over at RotoHeat.com. If you have any questions for me, or want to discuss this, you can find me in the RotoHeat Discord, Facebook group and on Twitter.